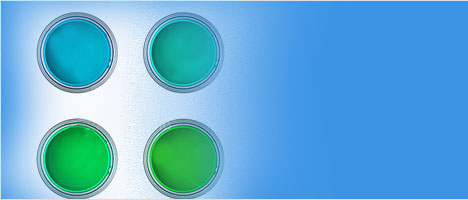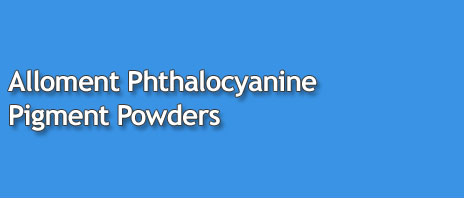 Home
» Phthalocyanine Pigments
Phthalocyanine Pigments
Pigment Alpha Blue, Pigment Beta Blue, Pigment Green 7
ALLOMENT PHTHALOCYANINE PIGMENT POWDERS
Full Strength
PATTERNS
Reduction 1 : 10
ALLOMENT
Oil ABSORPTION% By Weight
SPECIFIC GRAVITY
BULKING VOLUME LITRE / KG.
ALLOMENT GREEN WB- 7
PIG. GREEN 7
74260
32
1.80
2.00
ALLOMENT GREEN SB- 7
PIG. GREEN 7
74260
32
1.80
2.00
ALLOMENT ALPHA BLUE GX
PIG. BLUE 15
74160
30
1.60
2.50
ALLOMENT ALPHA BLUE AG
PIG. BLUE 15:1
74260
30
1.55
2.70
ALLOMENT BLUE PP-X
PIG. BLUE 15:3
74160
30
1.55
2.70
ALLOMENT BLUE SB-X
PIG. BLUE 15:3
74160
30
1.55
2.70
PRINTING INKS
PAINTS AND COATING
PLASTICS
FASTNESS
RESISTANCE TO BLEEDING
OTHER APPLICATION
FLEXO
GRAVURE
APPLICATION
FAST-NESS
APPLICATION
FAST-NESS
LIGHT
200
5
300
5
5
5
8
8
5
5
5
5
4-5
5
200
5
300
5
5
5
8
8
5
5
5
5
4-5
5
4
4
8
8
5
4
4
3-4
4
4
280
5
5
8
8
5
4
3-4
3-4
3-4
3-4
220
5
5
5
8
8
5
4-5
4
3-4
3-4
4
5
5
5
8
8
5
4-5
4
3-4
3-4
4
NOTES OF ILLUSTRATION SECTION
LEGEND:
' ." indicates that the product is recommended for the particular end application.
BLEEDING IN SOLVENTS
Scale 1- Considerable bleeding
Scale 5- no bleeding
RESISTANCE TO ACID AND ALKALI
Scale 1- Considerable discolouration
Scale 5- no discolouration
FASTNESS TO LIGHT
Scale 1- poor light fastness
Scale 8- excellent light fastness
FASTNESS TO MIGRATION : PLASTICS
Scale 1- heavy migration
Scale 5- no migration
a. FASTNESS TO HEAT : PLASTICS
    The maximum processing temperature is given based on 5 minutes exposure in an injection moulder cavity
b. FASTNESS TO HEAT : PAINT AND COATING
    Indicates the maximum recommended temperature based on 20 minutes stoving in an oven.
FASTNESS OF OVERSPRAY : PAINTS AND COATINGS
Overspray the full shade specimen with white stoving enamel.
Stove at 130°C for 20 minutes.
Scale 1- heavy bleeding
Scale 5- no bleeding
Note :
The information in this shade card is given in good faith , but without warranty. We recommended that before using our product in full scale production, the customer should make his own test to determine the suitability of the products for his own purpose under his operating conditions. As the circumstance under which our products are stored and handled are beyond our control , we cannot assume any response responsibility towards the suitability of the product for the customer's application.
ALLOMENT PHTHALOCYANINE PIGMENT POWDERS
These Phthalocyanine Pigment find wide application in paints , Textiles , Rubber , Plastics , Artist Colours , Ink Industries etc. They Have excellent dispersion and rheological characteristics required for printing inks with good transparency , gloss and tone. These pigments are homogeneous belonging to Azo Phthalocyanine groups. The physical, chemical, colouristic as well as fastness properties of the pigments depend to a large extent on the type of binders used, presence of driers, hardeners,the substrate and film thickness etc.


PHYSICAL PROPERTIES
Specific Gravity:
Specific gravity has been determined in an inert liquid at 20°C

Oil Absorption :
10gm. Of pigment is placed on the glass plate and acid refined linseed oil is added from a burette in drop and the paste rubbed at get a spreadable paste. The quantity of oil required for 100gms. Of pigment is then calculated and expressed as ml. Oil/100 gms. Pigment.

Light Fastness:
The prints of the pigments dispersed in printing ink medium is expressed along with Standard Blue Scale and rating expressed in 1 to 8 scale. 8 denotes excellence and 1 denotes poor fastness.

Heat Resistance:
A stove paint of the pigment is prepared in non-yellowing medium and applied to a tin panel.The temperature upto which there is negligible change in the shade after for 30min. Noted.

Fastness to Solvents and Chemicals:
The test is carried out by placing 0.5gms. Of pigments in a folded paper, sealed at the top and suspended in 20 CC of solvent in a stoppered test tube at room temperature for 24hours. The staining noted and expressed in 1 to 5 scale. In case of water, Acid or Alkali 0.5gm. Of pigments is mixed with 10 ml. each and these liquids heated in water bath for 10 minutes cooled and filtered. The filterate is assessed for colouration.

Soap Bleeding :
The test is carried out by placing completely dried draw – down / print of 20% jelly made with neutral white soap for 24 hours. Extent of bleeding noted expressed in 1 to 5 scale.



©
Alliance Organics LLP.
All Rights Reserved (
Terms of Use
)
Developed and Managed by
IndiaMART InterMESH Limited